In December of 2022, community-centered wine brand, Winey Art Club, equipped their wine bottles with vinID technology to support their goals to educate their customers on the winemaking process, build community, and demonstrate how the wine world can interact with the NFT space. Keep reading to learn more about the Winey Art Club, their partnership with vinID, and the benefits wine brands like theirs receive from using vinID technology.
What is the Winey Art Club?
Winey Art Club forges a new path for the wine industry as the first limited NFT collection to combine education with art and community-made wine. When wine enthusiasts join the club they gain a unique ability to participate in vineyard management and winemaking, vote on how the community wine is made, and they can attend exclusive wine and community events. Whereas most brands' decisions are made internally, Winey Art Club's community-centered approach allows customers to make product decisions instead.
The Winey Art Club includes 5,555 unique membership cards decorated with a Winey Art Animal that exists as an NFT token on the Ethereum blockchain. The NFT grants access to members-only benefits including wine education, building community wine, event access, workshops, discounts on wine, and more. Unlike other wine or crypto communities, the Winey Art Club doesn't require a strong knowledge of either topic and provides an easy entrance into both spaces. Members are also offered personal onboarding to the wine and crypto space.
Winey Art Club and vinID – A Perfect Pairing
As part of their pursuit to link wine to the blockchain and build a wine community, the Winey Art Club partnered with our team at vinID to equip each community-built wine bottle with an NFC tag. The NFC tag works as a tamper-proof seal with opening detection. Every wine bottle features each member's own Winey Art Animal as the label and when customers tap the tag with their smartphone, they verify the authenticity of their bottle and gain access to its unique digital twin. Within the digital twin, the brand accesses a communication channel where they can upload any content, news, and messages they would like to share with their customers.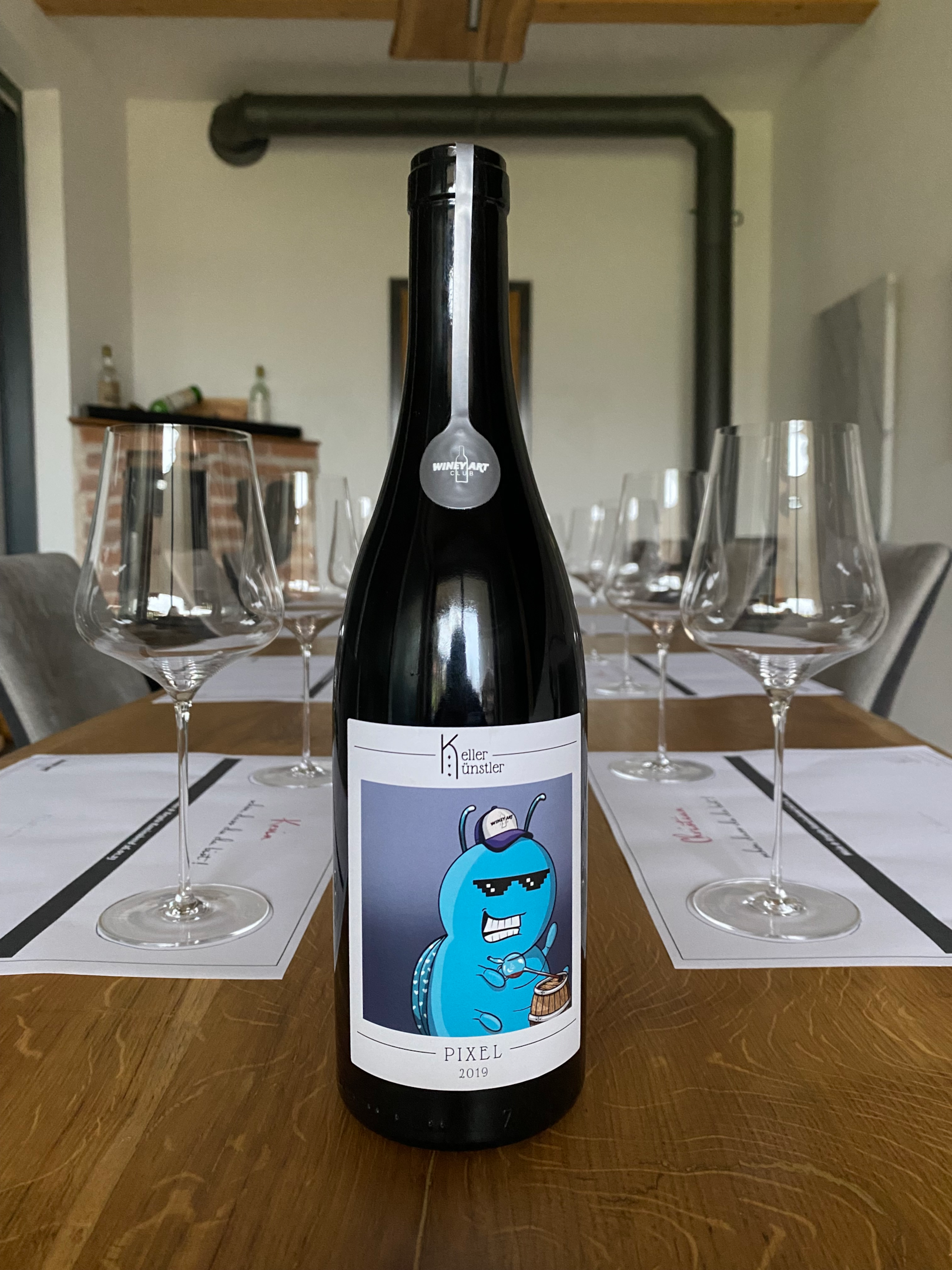 Watch this podcast episode with Winey Art Club's Alexander Gottschalk and vinID's Sebastian Schier to learn about how the two brands collaborated, and how vinID can be used to prevent counterfeiting and enhance community experiences.
Benefits of Winey Art Club's Partnership with vinID
Both the wine and digital world can be difficult spaces to enter if you aren't an expert and Winey Art Club wanted to provide an easy entrance into both spaces and show how they can be connected. The accessible and user-friendly nature of vinID technology makes this goal possible.
Not only is vinID user-friendly, but also provides the wine club with a variety of features within each bottle's digital twin that supports the brand's community-building effort, including:
1. Communication & Storytelling:
The customers' ability to communicate with the wineries helps the Winey Art Club achieve its goal of educating and building community.
2. Segmentation Tool:
When users register their wine bottles, Winey Art Club receives data on their customer base allowing them to better understand their customer segments and cater to each more effectively.
3. Additional Revenue Streams:
Winey Art Club can use customers' digital twin as a dynamic, real-time communication channel to access new revenue streams and drive sales.
4. Brand protection:
An increasing concern in the wine industry is the counterfeit market. Wine brands are beginning to seek anti-counterfeit technology to combat this issue. By combining IoT and blockchain technology, the wine is truly tamper-proof and Winey Art Club's products are securely protected from the counterfeit market.
5. Brand transparency:
As a brand focused on sustainability, the traceability feature of vinID technology brings transparency to the brand's wine and each bottle's origin.
Benefits for Winey Art Club Members
While vinID technology benefits Winey Art Club, the end-user benefits as well. When customers tap the NFC tag with their phone and register their bottle, they receive an NFT of their bottle and the following benefits:
1. Access to Content:
By accessing the digital twin to their bottle, customers can activate push notifications and receive news, content, and updates directly through their phones.
2. Direct contact with the winery their bottle is from:
Also featured on the digital twin, users of each wine bottle can communicate with the wineries.
3. Digital wine cellar:
With a simple tap each bottle is added to the customer's digital cellar. Thanks to the opening detection, customers have a personal tasting journal.
4. Verification of their bottle's authenticity:
Authenticity not only benefits both the brand but its customers as well. The security and tamper-proof nature of the tag allows users to ensure their bottle is authentic.
5. Trace history:
When users register their wine bottle, they access its digital twin which allows them to see exactly where their bottle came from.
Partner with vinID & Make Your Wine Phygital
Today, companies across all industries are looking to adapt to the rise of Web 3.0 to stay relevant with consumers. With blockchain and Web 3.0 as newer concepts, the idea of adapting to them can be daunting, whether you're a brand or a consumer.
Our partnership with Winey Art Club is just one example of how NFC and blockchain technology can work together to benefit your brand. At vinID, we make this transition easy by providing a user-friendly interface accessible with the simple tap of a smartphone. If you are ready to take the next step and go phygital with your products, contact us to get started.